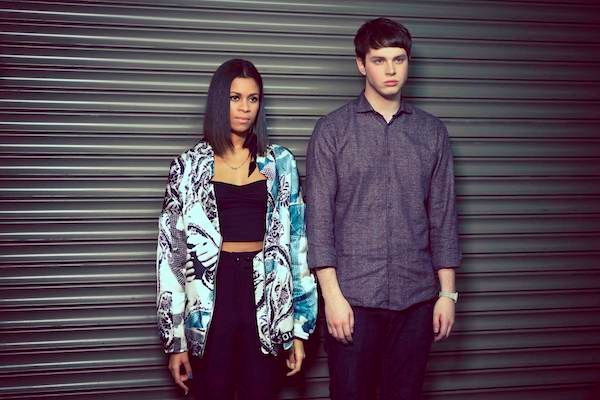 AlunaGeorge Drops Two New Singles, 'Turn Up The Love' And 'Last Kiss'
English Electronic music duo AlunaGeorge treated their fans to not one, but two single releases this past week. Both releases share a warm, tropical feel but branch f into two slightly different directions. 'Turn Up The Love' is upbeat dance-pop with a dancehall influence and is similar in vein to DJ Snake's hit their 2013 track 'You Know You Like It.' Their other new single, 'Last Kiss,' takes things at a slower tempo and blends a subtle reggae influence with chilled-out electronic pop. The duo shared the new music on Facebook and explained some the backstories behind the making the songs.
"'Last Kiss'] was written in Jamaica among the palms overlooking the water, where even if you're sad it feels sweet," they . "I think you can feel that in the music!" The tropical influence Jamaica certainly shines through on the track, and the scene they described seems like the perfect place to experience it. They further elaborated on the meaning 'Turn Up The Love' in a separate Facebook :
"Writing Turn Up The Love had been building up in my chest for a while, when I finally burst into the studio George was there waiting to jump in with me and bring it to life. We worked our way towards a song that felt inclusive as well as specifically pointing to what is happening around us daily with the aim to input some positive energy amongst the tragedy. I know that when we come together as an audience to listen to music something incredible happens, I feel it on stage and this time I wanted to turn that energy towards healing from these constant wounds from the increasing inhuman acts around us. It may not be simple but loving each other more, despite our differences is a powerful thing and even if it's just for those three minutes it's something we are all capable doing. Turn up the love my friends x"
These two new singles mark AlunaGeorge's first solo releases since the release their sophomore album I Remember late last summer. Comprised singer-songwriter Aluna Francis and producer George Reid, the duo is set to tour North America with Coldplay this summer. You can purchase tickets for the tour . Stream AlunaGeorge's two newest tracks below and let us know what you think in the comments!
h/t