The third and last day of Awakenings Summer Festival was canceled on Sunday. In fact, the festivities – which took place this past weekend in Hilvarenbeek in the Netherlands – did not occur on July 9 due to expected severe weather conditions, including heavy thunderstorms, strong gusts, and the possibility of large hail. With public safety in mind, festival organizers decided to cancel the event's last day, but not without a heavy heart.
Obviously, the utmost concern for Awakenings was the safety of all, and the forecast could not guarantee that. People were urged to stay at home for the last day, which included performances from artists like Adam Beyer, Adriatique, Amelie Lens, Ben Böhmer Chloé Caillet, Enrico Sangiuliano, Honey Dijon, Hot Since 82, Joseph Capriati, Kevin de Vries, Stephan Bodzin, and Tale Of Us, to name a few. It goes without saying that attendees were very disappointed by the news.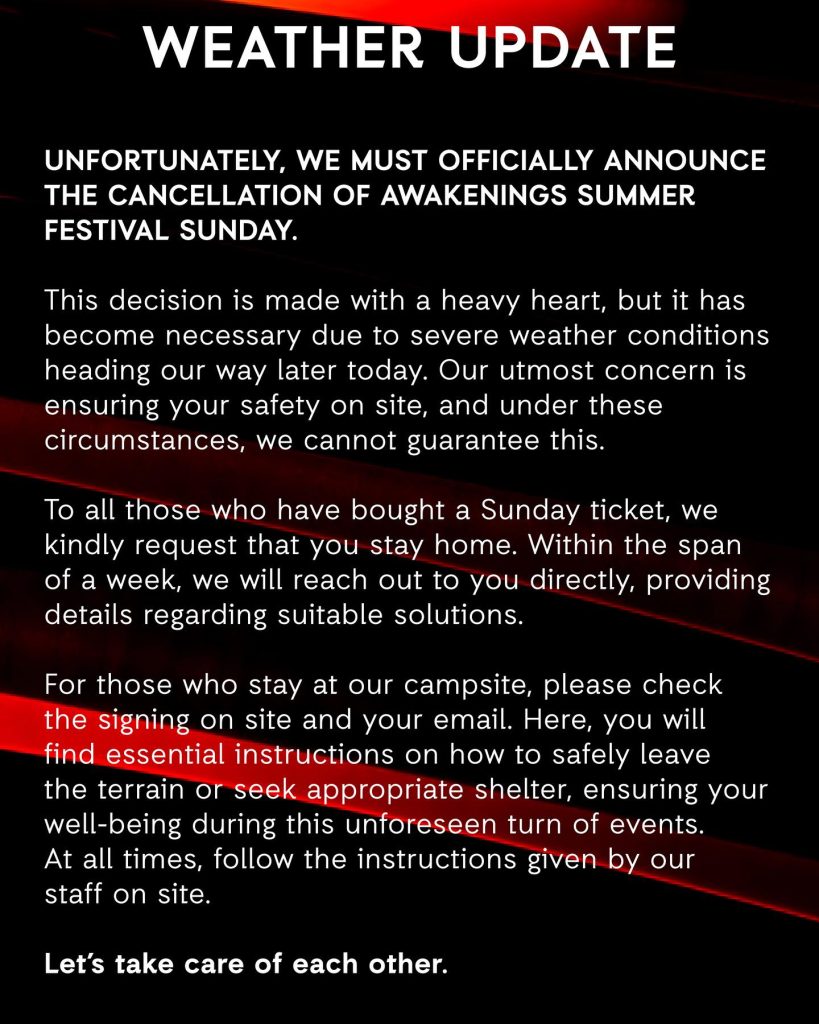 Moreover, for people on the campsite, special instructions were issued to ensure their safe departure. Awakenings Summer Festival arranged for free shuttle buses to transport campers to Tilburg Station. For those without alternative accommodations, an evacuation center was established.
Awakenings later confirmed that everyone made it out safely. In the coming days, the event's organizers will communicate with fans that had tickets for Sunday to provide "details regarding suitable solutions". To make matters worse, the weather ended up being fine after all, but it was too late for the festival Sunday. The festival put out a statement today apologizing for the situation, by standing by the call.
Stay tuned for more news!