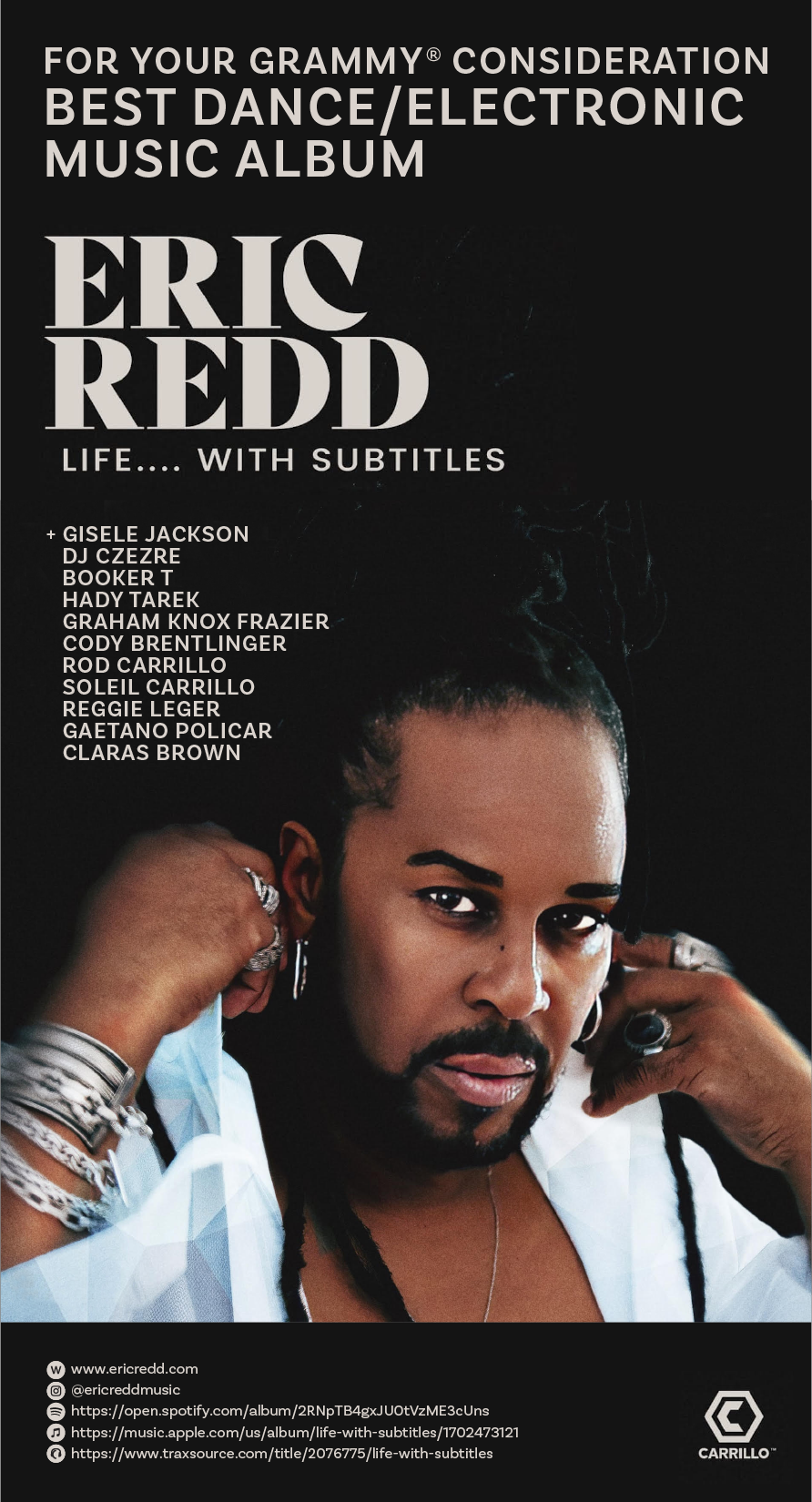 Eric Redd, the talented and multifaceted artist, is making waves in the Electronic Dance music scene, and not only by creating music, but by doing so while building up an enduring legacy. His most recent album, 'Life…. With Subtitles,' has garnered widespread attention and has been submitted for consideration in several Grammy categories. 
With a driving passion for music and an artistic vision that knows no bounds, Eric Redd has become a standout name in the Electronic Dance music genre; his album, 'Life…. With Subtitles,' released under Carrillo Music, has ignited a buzz within the music industry. This collection of tracks explores a fusion of House, Soulful House, and Vocal House, showcasing Redd's musical diversity and creativity. 
This album sets itself apart from others by its unique sound, that highlights Eric Redd's talent and signature style; and now, its recent submission for Grammy consideration in 2024, teases new milestones to be achieved by this unstoppable artist. 'Life…. With Subtitles' has been entered into multiple categories, including 'Best Electronic/Dance Album,' 'Best Remix' for Graham Knox Frazier's "Betcha Wandered-Divine Knox Remix," and 'Best Dance Recording' for "Rick James, Bitch" (Booker T. Remix), "All New," and "Betcha Wandered." Furthermore, it's even making waves in the 'Best Christian/Contemporary Recording' category with "Will You Move." 
'Life…. With Subtitles' features eight exceptional tracks that blend genres and showcase Redd's vocal prowess and skills; notably, this production includes remixes by acclaimed artists such as Booker T, Hady Tarek, and Knox, adding depth and dimension to each song. If you're a fan of soulful melodies, vocal harmonies, or infectious House beats, this album surely offers a rich auditory experience that will connect with listeners across the globe. 
As Eric Redd's career continues to ascend, he is set to perform at the renowned Amsterdam Dance Event (ADE) in Amsterdam, offering three electrifying shows over three days from October 19 to 21, with these events he showcases his dedication to his craft and his commitment to delivering unforgettable live performances. 
Eric Redd's journey in the world of Electronic Dance music is not just about the music; it's about pushing his own boundaries, creating diverse soundscapes, and reaching for the highest honors in the industry. With 'Life…. With Subtitles' now on the Grammy radar, there's no doubt that Eric Redd is on a trajectory toward even greater heights in the music world; Electronic Dance music enthusiasts and music lovers alike should keep an eye on this rising star. 
Don't forget to follow Eric Redd across social media to remain updated about his latest releases, live shows and news. 'Life…. With Subtitles' is available in all major online stores and leading streaming platforms.  
Listen to 'Life…. With Subtitles' here 
https://soundcloud.com/ericredd/sets/life-with-subtitles 
Eric Redd Online