Get ready to groove to the beats of Joel Corry's highly anticipated debut album, as it is set to hit the music scene on Friday, October 6th. Titled Another Friday Night, this album is bound to blow your mind with its sensational tracks and captivating melodies. Don't miss out on this incredible musical journey!
Pre-order Another Friday Night Now!
If you can't wait to get your hands on Joel Corry's debut album, you're in luck! You can pre-order Another Friday Night right now by visiting Joel Corry's official website at www.JoelCorry.com. By pre-ordering, you'll be among the first to enjoy the mesmerizing beats and infectious rhythms of this remarkable album.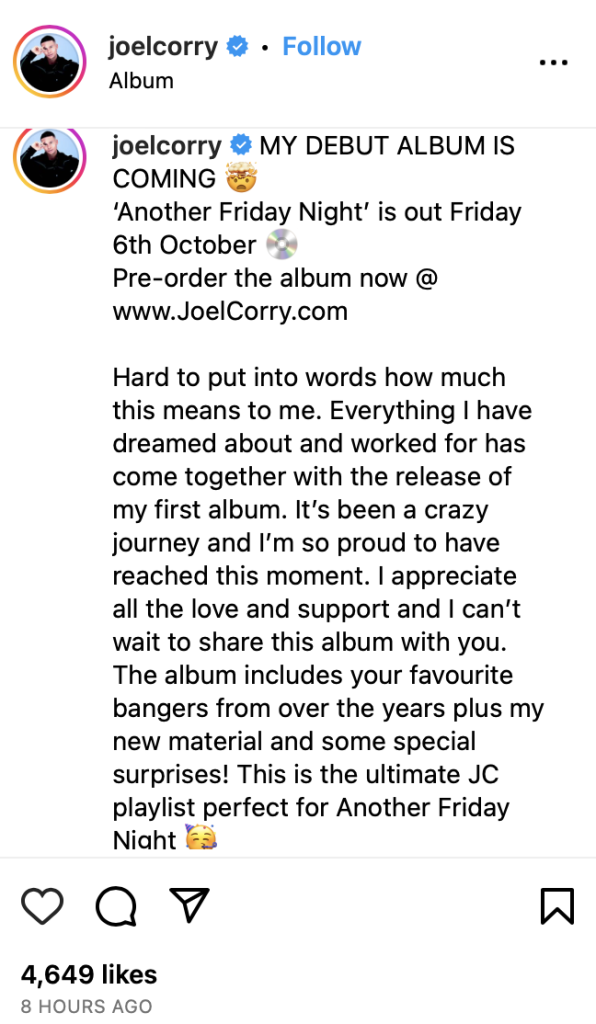 Don't miss the chance to be a part of the musical revolution that Joel Corry is about to unleash. Mark your calendars and get ready to experience a musical journey like no other!
About Joel Corry
Joel Corry is a talented English DJ, producer, reality personality and musician who has taken the music industry by storm. With his unique style and ability to blend various genres effortlessly, he has garnered a massive following of fans who eagerly await his every release.
After producing several chart-topping hits such as 'BED' and 'Out Out', Corry's debut album sees strong hype from music enthusiasts worldwide. His distinctive sound and infectious beats have the power to transport listeners to a realm of pure musical bliss.
Join the Joel Corry Community
Stay tuned to Joel Corry's social media accounts to keep up with the latest updates, sneak peeks, and behind-the-scenes. Be sure to catch all the content leading up to the release of Another Friday Night. Follow him on Instagram, Twitter, and Facebook to be a part of his ever-growing fanbase and join the conversation with fellow music lovers.
Don't forget to pre-order Another Friday Night now and be prepared to immerse yourself in the extraordinary talent of Joel Corry. Get ready for a musical experience that will leave you craving for more!