Great news for ZHU lovers. The Grammy-nominated, multi-platinum artist just announced the release of his new album, Grace. The release date is set for January 19th, 2024. The album will for sure start a fire during the winter. To make matters better, ZHU just released 4 new songs as part of an EP: 'Take My Soul', 'Blind Believer' featuring Reo Cragun & Rex Life Ram, 'Devil's Prescription', and 'Days Before Grace'. 'Changes' and 'Revelations' featuring Devault & BabyJake are two recently released singles that form part of the EP and the soon-to-be-released LP as well.
Days Before Grace
The now-released EP provides a little taste of what's to come. 6 powerful songs that share the more diabolical side of ZHU, with a darker tone to each of them. The artwork shows intense black and red colors with ZHU's silhouette. The back of the album reflects a sword pointing down to a table. Furthermore, the theme persists through the newly released videos for 'Devil's Prescription' and 'Take My Soul'. The videos take place in a warehouse rave, where the 'Faded' producer connects with the crowd and adds certain elements alluring to the Last Dinner painting.
[embedded content]
Adding more spice to the mix, ZHU announced his Fall Tour earlier this summer. He will bring the strong talent of Channel Tres, Claptone, Hayden Jaymes, and Noizu. The team will have 24 shows across the US, starting September 14th, 2023.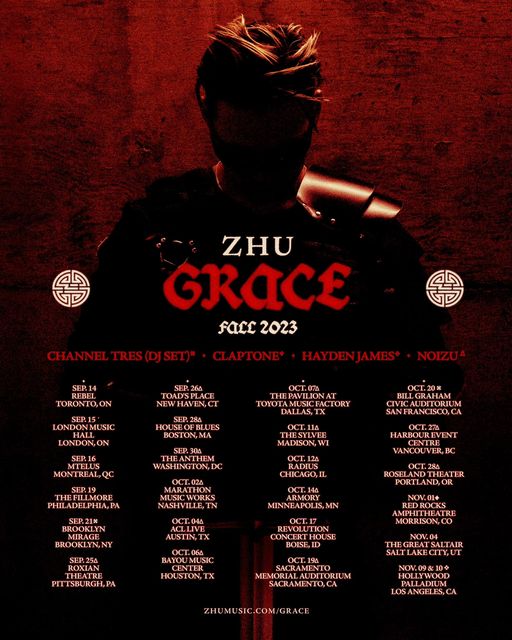 While we all wait until January, check out the new EP here, and enjoy supporting the new Music Video for 'Devil's Prescription' here.