In an unusual branding move, Google's Pixel 8 Pro has been rumoured to have a "Super Actua display" with a peak brightness of up to 2,400 nits.
According to 91Mobiles and X leaks from user Kamila Wojciechowska, the Pixel 8 Pro's 6.7-inch LTPO OLED display is branded "Super Actua". This appears to be a play on the word "actual" and allows you to view the phone in bright sunshine. A refresh rate of 1-120 Hz is provided, as well as up to 1,600 nits of HDR brightness and up to 2,400 nits of peak brightness. The Pixel 7 Pro has a maximum brightness of 1,500 nits (HDR) and 1,000 nits (HDR).
8 Pro Details
It has a lower resolution of 1,344 x 2,992 and 489 PPI than the 7 Pro's QHD+ (1440 x 3120) at 512 PPI, however, Gorilla Glass Victus 2 is now used on the front and back (in matte) with a polished aluminium frame. The Pixel 8 only has a 6.2-inch "Actua display" with a maximum brightness of 2,000 nits (HDR). The Smooth Display now ranges from 60 to 120 Hz, and there's an FHD+ (1080 x 2400) OLED at 428 PPI and a matte aluminium frame with Gorilla Glass Victus.
Both phones are stated to have "beyond 24-hour battery life" and "up to 72-hour battery life with Extreme Battery Saver". The Pixel 8 has a minimum capacity of 4,485 mAh and a typical capacity of 4,575 mAh.
Both phones are available in Obsidian, however the Pixel 8 receives Hazel and Rose while the Pixel 8 Pro gets Porcelain and Bay.
Meanwhile, we see some samples of the Pixel 8 Pro's camera in action. "Pro controls" include access to Shutter Speed, ISO, Focus, and Manual lens selection, as well as full-resolution image support.
Then there's the "Video Boost" function, which offers "expert video processing" by changing "colour, lighting, stabilisation, and graininess to make every moment more cinematic." This allows you to "see rich detail and colour even when recorded in low light." It is rumoured to be "coming soon."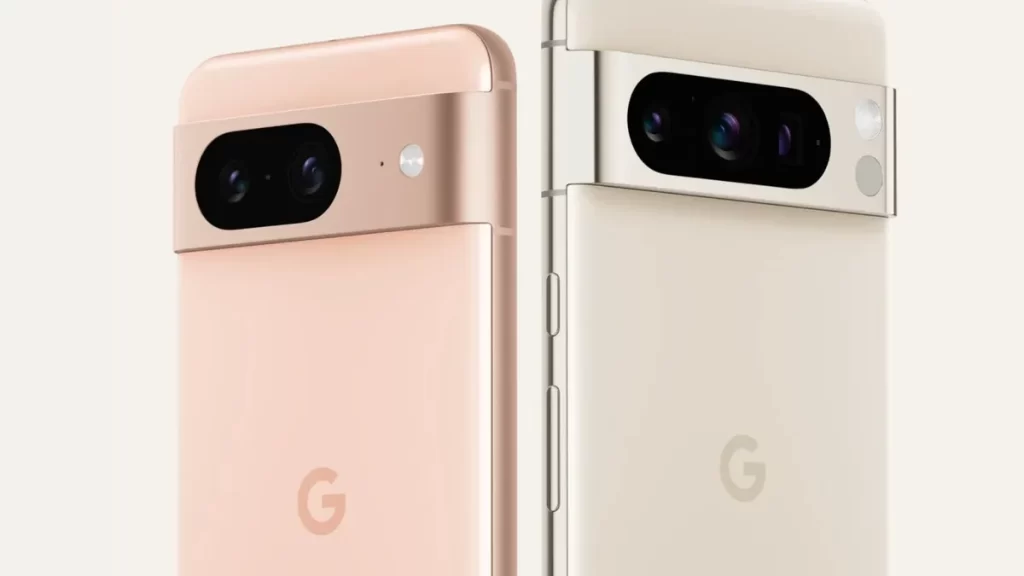 [H/T] 9to5Google