In the realm of music, where genres often maintain their distinct boundaries, encountering a project that seamlessly blends two seemingly disparate genres is a rare and exhilarating experience. Space Boy, a talented multi-instrumentalist, producer and engineer hailing from Buffalo, NY, has embarked on a musical journey that defies conventional categorization. His project "SL9Y3R" is a bold testament to the harmonious marriage of hip hop and EDM, crafting an 18-track album that transcends boundaries and challenges musical expectations. Join me as we delve into this innovative soundscape.
Space Boy's music has a knack for turning heads and captivating ears, primarily due to his unique fusion of genres. "SL9Y3R" is a captivating adventure through sound, traversing musical landscapes from deep house to dubstep, trap to classic hip-hop. What sets this project apart is Space Boy's ability to seamlessly weave these genres into a cohesive and engaging narrative. The album features collaborations with some of Buffalo's finest vocalists, adding depth and dimension to the sonic journey.
One of the standout elements of "SL9Y3R" is the expertly crafted distorted basslines, a characteristic that resonates strongly with fans of the genre. These basslines serve as the foundation upon which Space Boy builds his sonic tapestry. What's truly intriguing is the seemingly boundless array of experimental instruments employed to manipulate rhythms, creating occasional moments of serene introspection, as found in tracks like "TOXiC" and "DYSPHORIA." Yet, Space Boy isn't content to rest within the confines of a single genre. He fearlessly ventures into the realms of EDM genres like Future Bass and Dubstep with tracks like "witchesbrew666," showcasing his versatility and willingness to explore uncharted sonic territory.
"SL9Y3R" is a tapestry woven with minimalism, heavy basses, and solid 808s, creating a multifaceted sonic experience that defies easy categorization. Attempting to encapsulate the richness of this album within a review is a daunting task, for every track unveils a new surprise, a reimagining of hip hop conventions in a modern and distinctly 2023 soundscape.
Heartbreak808
88/100
"Heartbreak808" serves as an intriguing introduction to "SL9Y3R" as it was the first track I decided to listen (randomly) to have a first impression about the whole experience. It defies expectations with its elegant strings juxtaposed against a seemingly minimal sequence. The ambient tones gradually build towards a Future Bass-inspired drop, all while Space Boy's resonating 808s lurk in the background. The fusion of groove and tranquility in this track is masterful, making it an excellent opening statement for my experience.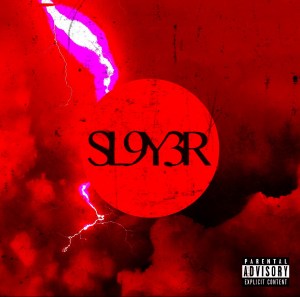 CALYPSO (feat. Big Bata and S'likedat)
86/100
"CALYPSO" lives up to its name, featuring an exceptional vocalist and an exotic, enigmatic flute that Space Boy skillfully distorts, weaving it into a hard-hitting bass-driven composition with the addition of S'likedat's samples. There's an eerie yet hypnotically enticing atmosphere to this track, reminiscent of the allure of the mythical Calypso. The collaboration between the three masterminds results in an unforgettable sonic experience.
MR GRiMM (feat. Roobxcube)
82/100
"MR GRiMM" takes a more hip-hop-oriented direction, introducing Roobxcube and infusing the track with old-school scratches. A sense of eeriness prevails, complemented by a Drum&Bass-inspired bassline. The retro rewind sounds harmonize seamlessly with Roobxcube's gangsta vibe, and the alternating elements create a hypnotic soundscape. The fusion of old and new elements culminates in an explosive production with a twist in the finale.
While I could delve into the intricacies of other tracks within "SL9Y3R," I urge you to experience this musical journey firsthand. Space Boy's creativity shines brilliantly throughout the album, reimagining the boundaries of hip hop and EDM. His innovative approach and ambition are evident, and it's safe to say that we can anticipate great things from him in the future. His ability to seamlessly blend the diverse worlds of hip hop and EDM has given birth to something truly exceptional, and it's a musical fusion that deserves recognition and celebration.
His forthcoming release with Bill $aber, featuring a music video, promises to be another electrifying addition to his ever-evolving discography. As Space Boy continues to push the boundaries of music, we eagerly await the next chapter in his musical journey.
[embedded content]