Today, the electronic music world is buzzing with excitement as Mayan Warrior. I say this as the renowned Burning Man art car and sound camp has officially announced its highly anticipated Los Angeles Halloween event. Partnering with the trailblazing event collective Stranger Than, this Halloween extravaganza promises to be an unforgettable celebration. What makes this one even more special is that this will be the last-ever Mayan Warrior fundraising event. In case you didn't know, the beloved Warrior was tragically destroyed earlier this year. Get ready to embark on a journey that fuses ancient culture with cutting-edge technology, promising an immersive experience like no other.
A Decade of Evolution
Hailing from the vibrant streets of Mexico City, Mayan Warrior has carved its path from a renegade Burning Man Art Car to becoming one of electronic music's most successful touring brands. For ten extraordinary years, Mayan Warrior has curated unannounced lineups. In doing so, they've showcased a harmonious blend of native Mexican and global underground talent. A true testament to human creativity, the MW team built a mesmerizing art car resembling a supernatural Mayan being. One that is complete with a state-of-the-art DJ booth, dazzling lasers, and an unparalleled soundsystem. The evolution of this artistic wonder is nothing short of awe-inspiring.
Rising from the Ashes
Earlier this year, tragedy struck when Mayan Warrior's beloved art car was destroyed in a fire. However, from the ashes emerged an outpouring of support and solidarity from the global electronic music community. This spirit of resilience and unity demonstrated the indomitable strength of Mayan Warrior's impact. In honor of their legacy, the upcoming Los Angeles Halloween event at Grand Park is set to pay tribute to the spirit of MW. The event aims to remind us that connections forged through music and art can withstand any adversity.
Stranger Than: Revolutionizing the Scene
Teaming up with Stranger Than five years ago, Mayan Warrior embarked on a series of fundraising events, helping them return to Burning Man and expand their shows beyond the Playa. Led by visionary founder Tal Ohana, Stranger Than has redefined the US electronic music scene, transforming culturally and historically significant urban locations into vibrant venues for house and techno events. Their innovative approach has brought electrifying experiences to iconic spots like City Hall's steps, Union Station's El Pueblo, Cabrillo Beach, and even the prestigious Petersen Automotive Museum. Now, with Stranger Than's partnership, Mayan Warrior's farewell event is sure to reach new heights of creativity and excitement.
As the sun sets on an era, this Halloween event promises to be an unmissable celebration of music, art, and community. On October 28th, electronic music enthusiasts and partygoers alike will gather to bid farewell to Mayan Warrior's awe-inspiring journey. Tickets for the event, along with more information, will be available from August 1st. Do not miss out on this historic occasion. The Mayan Warrior & Stranger Than crews will once again unite to create magic in the heart of Los Angeles.
In conclusion, tickets for Mayan Warrior go on sale August 1st. 
For an idea of what to expect, check out the Mayan Warrior's east coast farewell review, here.
Sign Up For Presale HERE.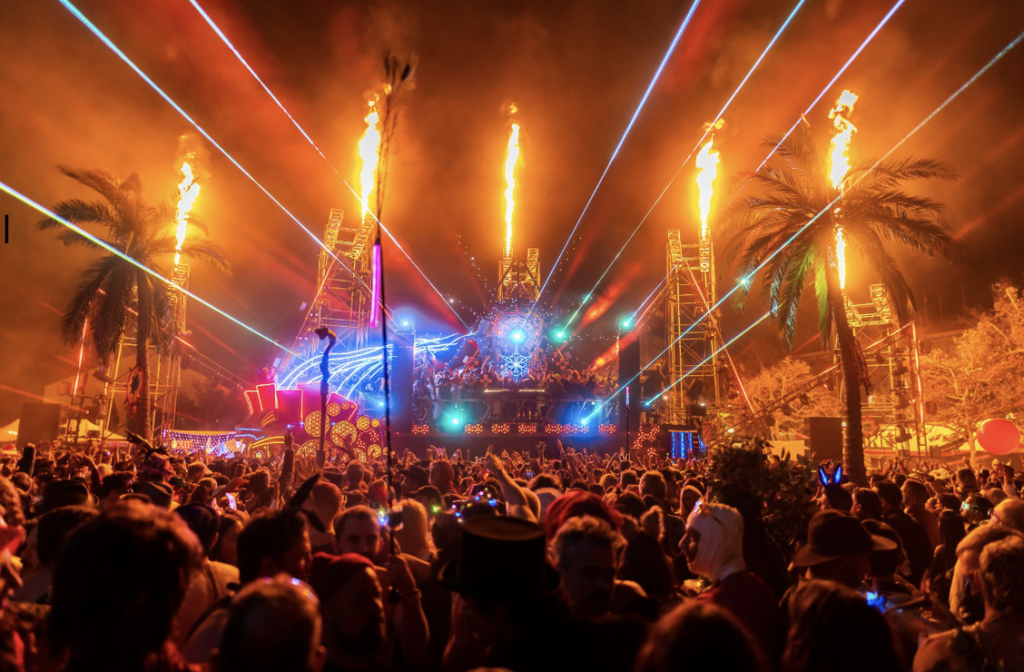 Connect with Mayan Warrior: 
Instagram l Facebook l Website   
Connect with Stranger Than: