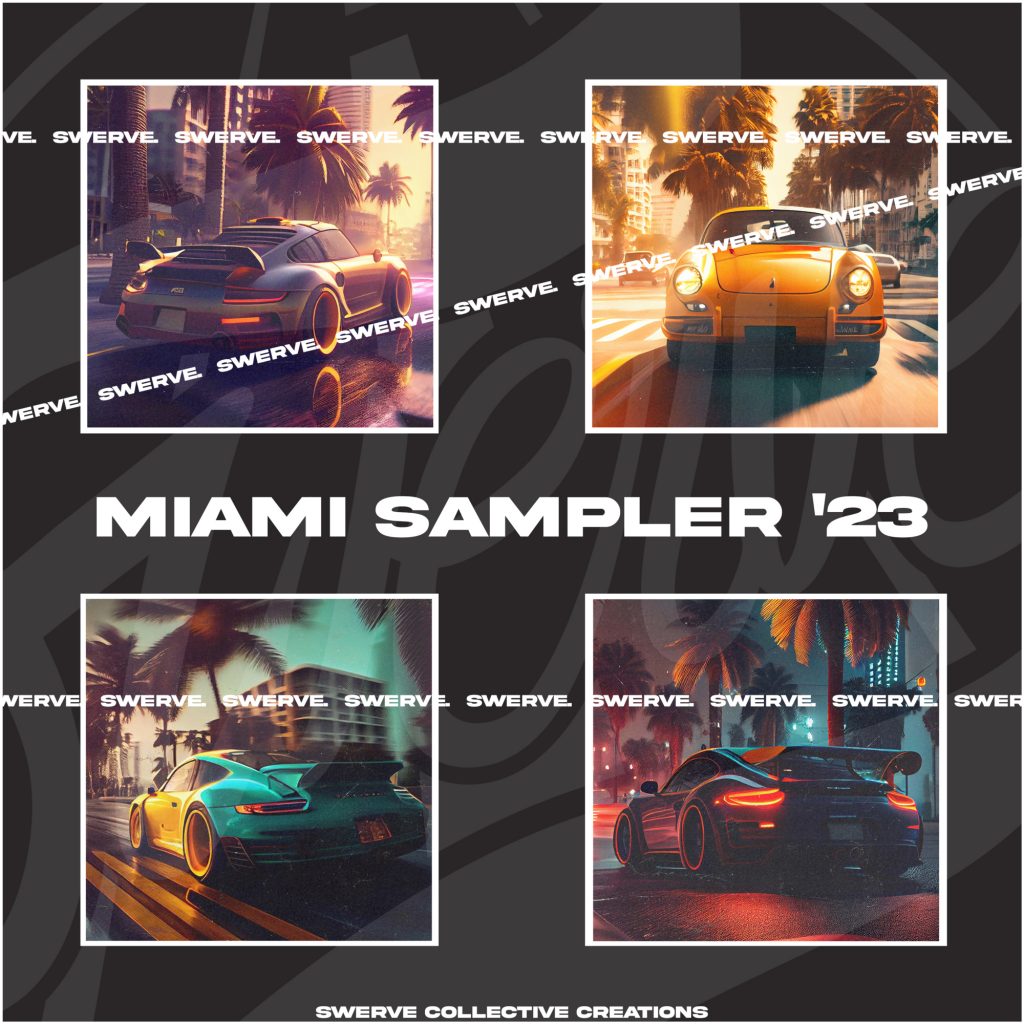 Rising independent electronic label, Swerve Collective Creations debuts their highly anticipated EP, the Swerve Miami Sampler '23. This 4-track EP sees its official release through Swerve Collective Creations just in time for the upcoming festival season and this year's Miami Music Week.
Swerve Collective Creations is a US-based record label and brand that focuses on electronic, house, and the dance music scene, as a whole. Without question, Swerve gravitates towards the music festival space, especially the acclaimed Ultra Music Festival, which takes place every March in Miami and has helmed itself as one of the most notable electronic festivals in the USA. The third annual Swerve Miami Sampler serves as an ode to Ultra and its coinciding Miami Music Week. 
This year's Swerve Miami Sampler '23 artwork was created with AI through the midjourney bot. Setting themselves apart, Swerve is embracing this technology and will utilize it in its coming artworks for future releases. The 4-track EP is jam-packed with high-energy and uniqueness from start to finish. These high-octane tracks will take you on a ride like no other, featuring driving basslines, soaring synths, and irresistible melodies that are guaranteed to get the party started. Encompassing electrifying beats and genre-defying sounds, the tracks on this year's Swerve EP are certain to leave a lasting impression. Whether you're embarking on a trip to Miami for MMW or Ultra, getting ready for a night out, putting together your latest playlist or DJ set, or even just looking for the perfect car ride soundtrack, Swerve Miami Sampler '23 EP should be on your radar. 
'Swerve Miami Sampler '23' tracklist: 
Pejt, Lianju – Ladies & Gentlemen

Aitor Hertz – Okay

Seanyy & Bad Habits – Show

Mave & Langhoff – Midnight
FOLLOW SWERVE:
Instagram | Twitter | Spotify | SoundCloud | Facebook | Website | YouTube